The outgoing generation of the BMW 6-Series has to be one of the ugliest cars ever made by the German automaker. I never thought that the company could launch such a poorly designed car. We can now forget about that one because BMW has revealed the 2012 6-Series Coupe, ahead of its official debut at the Shanghai Auto Show.
Designed in order to be the ultimate "dream car", the new 6-Series Coupe has a "shark-nose" front-end with bi-xenon headlights and a forward-slanting grille, making the car look way better than the outgoing generation. The car has been fitted with frameless windows, chrome accents, along with a C-pillar with the distinctive Hofmeister kink. The back is dominated by the dual exhaust system, the LED taillights and a trunk lid that has an integrated spoiler – no point in saying that the back look is 10 times more attractive than the fat bottom of the outgoing model.


As far as the cabin is concerned, high quality materials and premium amenities dominate the interior. It comes with Dakota leather seats, high-gloss black trim (wood and brushed aluminum trims are also available), a freestanding 7-inch iDrive display and a generous boot that can hold up to 460 liters of your belongings. Optional features include a panoramic sunroof, heated / ventilated seats, GPS navigation with an upgraded 10.2-inch display and a Bang & Olufsen audio system.
Technology-wise, the 2012 BMW 6-Series Coupe is available with a head-up display, night vision assist (with pedestrian recognition), rear-view camera, and lane departure / lane change warning system and parking assist.
At first there are going to be only two engines available for the model. The 640i model will come with a 6-cylinder turbocharged 3.0-liter engine that produces 315 hp (320 PS / 234 kW) and 332 lb.-ft (450 Nm), mated to a 8-speed automatic gearbox, which will allow the car to do the 0-60 mph sprint in 5.4 seconds, on its way to a top speed of 155 mph (250 km/h). The fuel consumption is not bad at all, as the 640i can do 30.5 mpg (7.7 liters / 100 km), while the CO2 emissions stand at 179 g/km.
A more powerful model is the 650i which is going to be fitted with a twin turbo V8 4.4-liter plant that will output 402 hp (407 PS / 300 kW) and 442 lb.-ft (600 Nm) of torque, good enough for a 0-60 mph sprint in 4.9 seconds and a top speed of 155 mph (250 km/h).  With this engine, the car will do 22.6 mpg (10.4 liters / 100 km) and CO2 emissions of 243 g/km.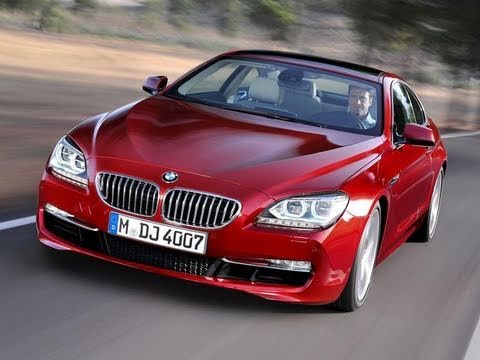 The 2012 BMW 6-Series Coupe will hit the North American dealerships this fall. No word about the price list, but the automaker will probably tell us at the Shanghai Auto Show. Stay tuned.
Post tags: Tags: bmw 6-series coupe