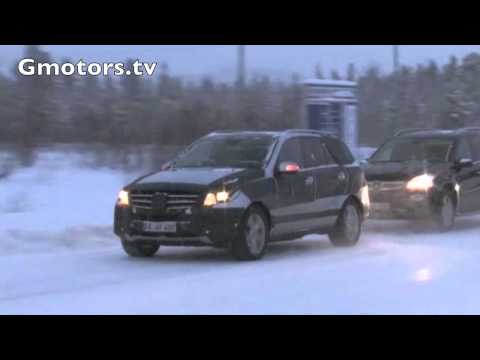 A spy video of the forthcoming 2012 Mercedes ML has surfaced the Internet this week, showing a few camouflaged prototypes testing in Sweden's cold weather. Although the German automaker did not reveal any information about the new generation of this model, we can make certain speculations. Most likely, the new ML will be available with a choice between gasoline and diesel engines, with a 2WD configuration or a 4Matic AWD system. Probably there is going to be an AMG version of the model which will be launched later on after the standard model will hit the dealerships.
The non-AMG version will probably be fitted with a V6 3.5-liter gasoline engine that will crank out 300 hp, or a more powerful V8 4.4-liter twin-turbo. We don't know any info about what diesel engines will be available for the SUV. What we think is that the car will benefit from some eco-friendly technologies, like the start/stop system for example, along with more efficient engines that eat up less fuel and have lower CO2 emissions.
The AMG version will most likely get an all-new 5.5-liter that will produce more than 500 hp, in order to keep up with the BMW X5M.
Post tags: Tags: mercedes ml, spy-video