If you are interested in buying a used car for your daily necessities, research it's of the essence if you want to find the best places that offer a diverse variety of vehicles. Doing this research you will have more choices at your disposal and you will find a great bargain for a used car in a great condition. You can find used cars to buy in many places such as dealerships, private owners and even online.
The most famous online source which offers you a large variety of used cars is eBay, more precisely its separate section named eBay Motors, especially created for car buyers and sellers that can find each other easier. This site is one of the biggest online auction websites in the entire world recording each year thousands of buying and selling transactions made by people that can even live in different countries. The eBay used car website will help you find the vehicle you want, because there are thousands of cars and trucks registered on this site. In addition, this website offers you the possibility to find a used car located close to your town, but also vehicles located across the country and even in foreign countries. Before selling or buying a car you need to register on the website by creating your own account which will allow you to sell your car in the Motors section.
As a car seller you will need a credit card and a Paypal account, because sometimes this is a requirement. If you are a client of the eBay used car website for the first time as a seller you should familiarize yourself with its sections and find out how you can place your car photos on the website. You can also take a look at the price of other similar used cars posted on the site in order to determine a fair price for your car. In addition, if the buyer asks you for some additional information you should provide answers as soon as possible and if he asks you to see the car and to drive test it you should agree with his demand for a quick sale. When the transaction is over the only thing you can do is wait for the payment.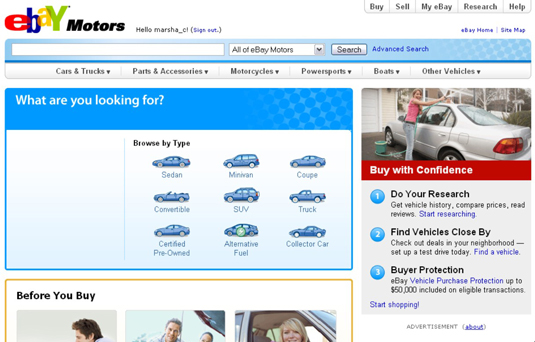 If you want to buy a car from the eBay used car website you just need to access the "Categories" tab and select the section "Cars, Boats, Vehicles & Parts". Then you will have to type the car model of your interest and enter your zip code. The results will appear immediately on the left side of the website page. Among the details provided you will find the exact number of miles between your home and the car for sale. To reduce the number of results you can consider an additional filter: the budget you have already established for your used car purchase.
If you find the used car you want to buy you have two options: place a bid or choose "Purchase Now" (only if the seller offers this option). Then, you should wait to be notified by e-mail if your offer has been accepted by the seller. If the answer is positive you will continue the buying process as indicated. You will be able to contact the seller and establish the payment method: online payment, paying by using PayPal or by sending a check. Once you cover the payment you can decide to go in person and pick up the car or if you are purchasing the car from a far away location you can decide to use shipping services.
You might also want to read:
---
---
Post tags: Tags: automotive articles, ebay used car
Powered by Crowd Ignite