Mazda Used Car Values
If you decide to buy a used car you should take a look at the Mazda models manufactured during the last few years because you will not be disappointed by purchasing one. Mazda is one of the oldest Japanese companies, because it was founded in 1910 and since then it has become a popular car brand of the automotive industry. I'm sure that by giving you some examples of such cars, you will be able to find a model that offers the features you are interested in.


Mazda vehicles are affordable cars which offer high performance. The used Mazda 6 is a potential choice and it offers high used car value. It was launched in 2003 as the second generation of Mazda 6 being available as a four-door hatchback, a sedan or a wagon. It's equipped with a four-cylinder engine able to produce 160 horsepower and a manual or automatic transmission. It features cloth upholstery, cruise control, foglights, leather seating, a high performance audio system with CD changer and rear spoiler. There is also available a Mazdaspeed 6 which is equipped with a turbocharged engine able to deliver 278 horsepower and features a six-speed manual transmission. The prices for the used Mazda 6 models vary between $5,639 for a 2003 model and $15,476 for a 2010 Mazda 6 model.


The used Mazda MX-5 Miata is a good choice for someone who loves to drive convertibles. The more recent models were redesigned in 2006 and are available in six different trim levels including Touring, Sport, Base, Club Spec, Grand Touring and the Third Generation Limited Edition. The car received a new stylish exterior, new suspension and a powerful engine. The older models are equipped with a 1.8 liter four-cylinder engine able to deliver 140 horsepower and a five-speed manual transmission. No matter if it's about a recent Mazda MX-5 Miata or an older one, these cars remain one of the most popular convertibles ever built. The prices are quite affordable and vary between $1,078 for a 1990 model and $19,883 for a 2010 Mazda.


If you are interested in buying a used Mazda SUV, then the Mazda Tribute must be on your list of used Mazda vehicles. The recent models received important changes on the exterior and the interior. I can say that the interior of the Mazda Tribute is roomy and comfortable and it was improved with better materials and modern gadgets. Under the hood, this SUV received a 2.3 liter V4 engine able to produce 153 horsepower. You have also the possibility to choose the 3.0 liter V6 engine version which delivers 200 horsepower. It also features a four-speed automatic transmission. This Mazda SUV will cost you around $3,984 for a 2004 model and $17,691 for a 2010 version.


If you are looking for a used Mazda truck then you should check out the Mazda B-Series truck which costs between $5,130 and $17,479 for a 2009 model. The generation of trucks manufactured between 1994 and 2000 comes available in three different engine versions: a 2.3 liter V4, a 3.0 liter V6 and a 4.0 liter V6 engine while the transmission is either four-speed automatic or five-speed manual.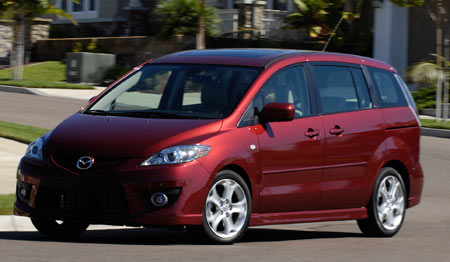 Mazda also offers a compact minivan which was popular for many years in Europe and Japan, the Mazda 5. This minivan offers a six-passenger capacity, a sporty look and a relatively fuel-efficient family vehicle. The prices are affordable and vary between $9,183 for a 2006 model and $15,116 for a 2010 used Mazda 5 equipped with a 2.3 liter V4 engine able to produce 153 horsepower and a four or five-speed automatic transmission.
Incoming search terms:
mazda
02 mazda tribute
used vehicle values free
mazda vehicles
Cars Used Car Prices Cars
mazda cars
mazda 2003 tribute
under the hood of a mazda 6 2005
2007 mazda tribute
mazda old version cars
Similar articles: