Gurkha
We've been waiting for the Fast Five movie to come out for so long, that it just wasn't enough to see it only once. That's why we're probably going to go see it again soon.
If you like cars, you're going to love this movie. If you like massive action movies and insane stunts, you're gonna love this movie. If you like hot women… well, I think you got the point. Fast Five delivers what's expected of it and more. It all starts with Brian on the other side of the law and with Dom about to be put behind bars, when… it all goes down hill.
Imagine a team of maniacs that really love speed and breaking the rules and you've got a pretty fun ride ahead of you. The stunts are seriously wild and if Vin Diesel wasn't enough, they brought The Rock to double the muscle mass on the set.
2010 Dodge Challenger
There will be a lot of fire power and a monster of a armored truck that could, pretty much, drive over anything. The acting is not bad either, although some actors are more authentic than others. But the action will keep you pumped with adrenaline for two hours that you won't feel fly by.
You definitely have to go see this movie. Careful , though, don't watch Fast Five and drive, because you might get pulled over before the first red light. It's that exciting.
PS: Don't leave the cinema during the final credits, because you're in for a little treat afterwards.
Have you seen the movie yet? Did you love it or did you love it?
1966 Corvette Grand Sport
Photo source.
Post tags: Tags: fast and furious five, fast five, fast five movie, fast five review

Oh boy, it's one of those days when it's great to be a car fan and a gamer! Guess what, if you haven't had enough of Fast Five, there's more coming your way!
Gameloft just announced that April 28th will be the release date for a the official Fast Five game! How awesome is that?
The Fast Five story continues to your computer, iPhone, iPad or Android device and I have a feeling it'll be all over the place! So if you're the kind that thinks fast and lives furiously, then this is for you. You'll be able to play as Brian O'Conner and be the cops' bad side, while putting together your own crew of skilled racers. The entire game follows the movie's storyline, so it's bound to bring some action and drama to your daily routine. Also, the soundtrack sounds pretty darn good.
Here's a small preview: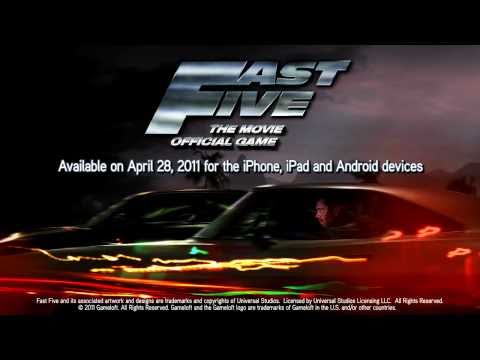 What do you think about it?
Via Gameloft.
Post tags: Tags: fast and furious five, fast five, fast five game, fast five game trailer, fast five gameloft
Check out the new Fast Five poster for the UK. The brazilian background looks ready for some fast driving and for some of the bullets flying from these two merry men's guns.
We don't know why the launch date on the poster sais April 21 but if the info is true, we can only be happy that we have wait one week less. We'll keep you posted with daily updates of any changes that occur.
Post tags: Tags: april 29, fast and furious five, fast five, vin diesel