Saab IQon infotainement system
After they blew our mind with the Wild PhoeniX Sports Coupe Concept at the 2011 Geneva Motor Show, Saab went on to launch their new infotainment system, thus aligning them to all the big boys who play this field.
Again, the Swedish car maker surprised us in the best possible way. What the presentation video shows is an infotainment system close to the joys that tablets bring us. The name is also quite appropriate – IQon , pronounced as "icon", and it encompasses a series of functions that will make you never want to leave your car. Running on Android OS, it works with third-party service providers and apps developers, it's based on an embedded computer platform and it connects to the Internet when the car's ignition is switched on. We'd like to take a moment to say… WOW!
Saab even created an app store, the Saab IQon store, where you can get all your desired online services. Developers will be happy too, because Saab will grant them access to more than 500 signals from different sensors in the car through a vehicle application programming interface (API). These signals refer to vehicle speed, location and direction of travel, driver workload, yaw rate, steering wheel angle, engine speed and torque, inside and outside temperature, barometric pressure and the sun´s position, etc.
"With Saab IQon, there are no limits to the potential for innovation," says Johan Formgren, Head of Saab Aftersales and commercial project leader for IQon. "We will be inviting the global Android developer community to use their imagination and ingenuity."
Kudos Saab! We feel you could be the next car maker to rise again from its ashes, like Citroen did. Keep up the good work!
Here's the video presentation of IQon: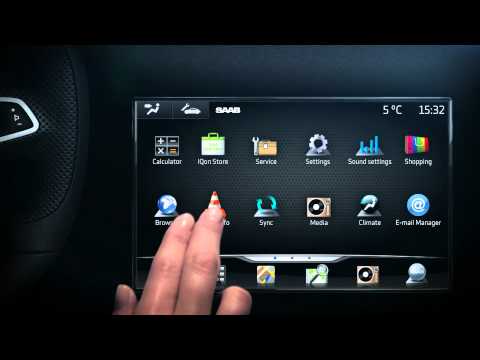 Read more in Saab's press release.