Whoever has said that women can not handle parking in tight spaces is wrong. Watch the video below and you'll change your opinion: that's what we call the clear sign of feminine perseverance and patience when it comes to parking their car.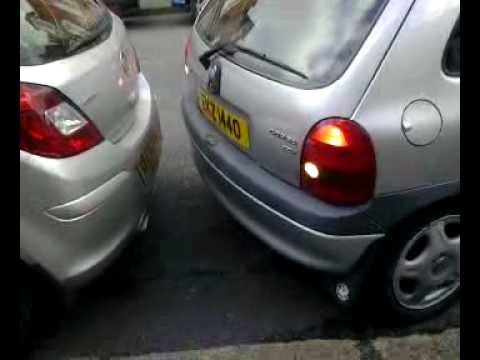 A man would have probably used his horn until the owners of the two cars that had blocked his would have appeared. That woman has chosen a more elegant way to solve the problem, even though more women were involved, not just the driver.
Do you have any examples of this type? Share it with us!
Post tags: Tags: car parking, woman car parking
We all know the eternal dispute between men and women: women – who know better about everything, and men – with the "everyone must always do what I say" attitude, maybe because of their extreme masculinity. Cars and driving issues aren't excluded from this dispute.
The funny car video below could be another example of women's stubbornness of following their line of thought, no matter what circumstances, no matter the risks. It's a female thing, I guess!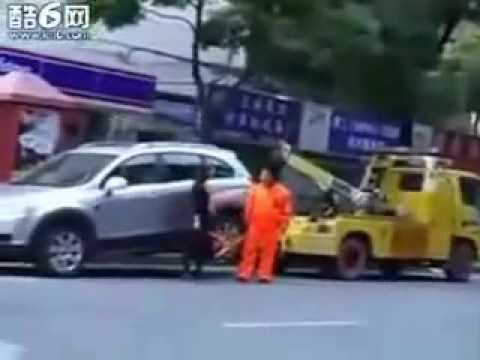 How do you and your female / male friends usually solve your car related issues?
Post tags: Tags: funny car video, women car
Apparently, the ad image for the 81st edition of the international Geneva Motorshow in 2011 represents a woman.
Analyzing the color and the type of image used for advertising the show, the signs suggest that this year the motor show has chosen to focus on the female audience, and not to men, as it used to happen. It remains to see, when the auto show ends, if this was actually a new targeting strategy or if it was just a design concept.
What do you think about this? Where do you think the organizers were aiming?
What is your opinion about this? Is it good or is it bad to have such a poster for an auto show traditionally dedicated to a male audience?
[Source: Salon-Auto]
Post tags: Tags: Geneva Motorshow 2011, woman ad image
Sometimes, women can be very persevering when it comes to cars or driving, but I really don't understand why immediately leave after finally succeeding to park! It seems like such a waste of time. Watch the video and share your own opinion to us!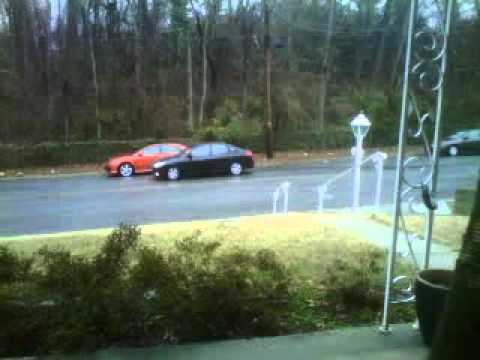 Post tags: Tags: car parking, woman parking
For years, men have claimed that driving isn't for women. We recognize and disagree with it, because this is a discriminatory attitude against women. So, we will present the problem from another perspective: most women are very good drivers, but there are some exceptions too, as for the men's case.
Under those circumstances, you can peacefully enjoy the two videos below, both from the women driving "facts of life" category: a speechless example of a female style of parking and running from the accident spot:
and a clearly lack of inspiration while driving on snow: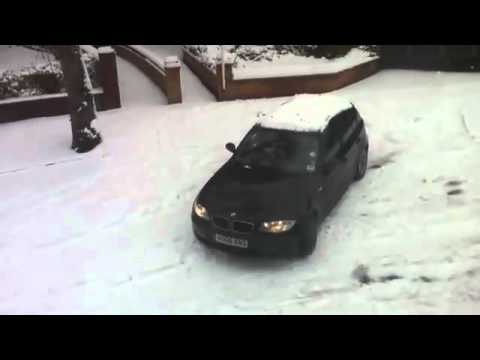 What do you think about this? What is your opinion about woman drivers?
Post tags: Tags: car accident, driving on snow, woman driver
Sometimes, women use their driving skills to facilitate their entry into a luxury cafe: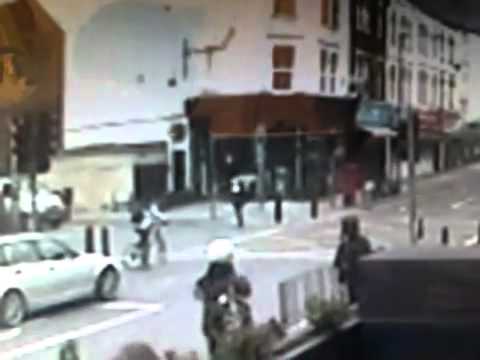 This time, maybe she thought that it is a drive-in cafe. Or she was just curious about the inside space, who knows, maybe for a possible future exhibition of damaged cars in which she would like to take part.
After all, it seems to have been the result of an argument with the cafe staff, maybe because they didn't delivered the proper coffee at the proper temperature. The solution: her Mercedes car hit, to help them fix their client service problems or their coffee makers.
Post tags: Tags: woman car
The different insurance pricing between males and females is currently discussed in Europe so that young males to experience lower premiums compared before. The courts have already decided in September 2010 to ban gender discrimination present at the moment, but the verdict is to be announced on March 1.
The proposal related to car insurance is for equally evaluation and prices for men and women. Apparently, insurance companies are already preparing for the changes, so that the impact on profitability to be minimal.
[Source: Dailyrosetta]
Post tags: Tags: car insurance, insurance prices
You're a successful business woman, you work daily extra hours and you do not even remember the last vacation that you had without being interrupted by business phone calls. So, forget about "impossible" long holidays and just take a day off and go on a road trip with your girlfriends, because, let's face it, spending time with your friends is always relaxing and comfortable.
To come to your aid, we have made a list of things you should check on your car before going on a road trip with your girlfriends:
– check your tire wear on each tire. If the ridges are smooth, you should definitely replace them, because worn tires decrease the safety features of your car. In addition, make sure you have a spare tire in the boot; if you don't, get one before going on the road trip.
– go to a petrol station nearby and check your tire pressure. The correct tire pressure for your car is usually written on the driver's door sill and in the car's handbook. Make sure that you check all four tires and the spare.
– verify your wheel alignment by driving the car slowly in a straight line down a flat street and loosely holding the steering wheel. If it tends to steer to the left or to the right, then your wheels may be out of alignment and you should take your car to a local service centre to fix the problem.
– check the oil level: when your car is slightly warmed up, park it on a flat surface, pull the dipstick out, wipe it with a clean towel, and then put it back and pull it out again to see the oil level. If it's low, top it up, respecting the recommended grade indicated by the vehicle's manufacturer.
– make sure that you have enough windscreen washer water and fluid and, if necessary, fill the clear plastic bottle with a windscreen symbol on it with clean water and washer fluid by pulling the cap.
– decide who the drivers will be and make a plan of stops at every two hours, for the driver to be replaced or to have a rest. Each time, give the new driver some time to adjust the seat, rear view mirror and side mirror.
– prepare a pack of CD, DVDs and games for your entertainment and pack some road snacks and water.
– do not forget to have lots of fun.
You can suggest any other preparations to our readers and then all that you have to do is to enjoy your road trip!
Post tags: Tags: road trip, women car
We all have a dream car that we want at some point to drive and to boast with to friends. I know, we are all pretentious when it comes to the perfect car for us, especially if we are about to buy one, but nothing compares to an undecided woman, looking for a color and a particular model, with requirements more or less important about lights and styling and who knows what else.
It could be a vehicle for which a woman has saved money her entire life or just the result of a snivel of the moment. Whatever the situation, the decision-making and the buying process is equally difficult for a woman in both cases.
So, here are some guideline steps dedicated to women, for the moment when they decide to buy their dream car:
1. Think well about what you want from your car: e.g. you want a car to be recognizable from far away, with a distinctive style, or a car that doesn't drove attention; a family car, or a car to drive to business meetings. 2. Make some research for different features by "keywords" on specialized sites to find your target dream car. 3. Don't disarm if what you want is difficult to be found. A dream car is never easy to find, so you don't make an exception. You can never predict when a new opportunity could arise. 4. Accept the others' advice on finding, inspecting and negotiating for different car models or special features that you want. 5. You should check online on specialty forums for your target make and model and review listings of price for used / new cars and the needed maintenance cost. 6. Test-drove cars owned by friends and family to verify your choice. 7. Read different vehicle history reports to check cars before you go to see them. 8. You should visit the dealers' certified websites and get informed. 9. Visit the dealerships of the car you decided to buy. 10. Do not accept any solution that does not fully content you. There is no need to compromise; there are always many other options to explore. 11. If you want to buy a used car, make the sale contingent on inspection of the car and work with a mechanic to help you with that. 12. Don't reject the idea of negotiating, especially with dealers who may have inflated asking prices. 13. Take into consideration the costs of the needed repairs when you make your offer.
14. Ask the owner if the car's title is in his possession and ensure it has no liens or co-signers before giving him the money.
What more should a woman do for making the right decision when buying a car?
Post tags: Tags: car buying, guidelines
Yes, it's winter; it's that time of year that forces you to prepare your car more than you regular do during the rest of the year: from tires, engine and heating system, to cleaning the car of snow, deicing the windshield and extremely cautious driving.
Fogged-Up Windows
While some of all those things could be done in advance, some couldn't. So today we've decided to help you with some advice to easy fix your fogged-up window, one of the problems in cold weather. We will provide you some proper interior defrosting techniques, so that, from now on, the fogged-up windows are fixable.
First, you should identify the cause of the problem with your windows. Sometimes it is due to the humidity from inside the car, which can be caused by that fact that there are a lot of people in the car or just by a heavy breather. The situation is worsened if the temperatures dip and then condensation starts to freeze on your window.

Tips & Tricks
The solution: turn on the air conditioning and the fog will clear. And you don't have to turn the air temperature to cold. It's an easy thing to do and saves you from driving with your windows fogged up on the inside, which I advice not to do. Wait until they have cleared up and you could prevent many possible accidents.
If your car is not equipped with air conditioning, you can try a few different things, but, unfortunately, the results aren't as comfortable or as quick as in the presented upper case, but still. An idea would be to just roll down your window, to let some of the humidity out of the car. This is a solution for the warmer days. In winter, all that you can do is to switch you climate control system so that the recirculating air from the outside to be turned-on (it's the "REC" labeled button; on some cars, the button may show a car with an oval arrow inside of it). The fresh air coming in from outside will keep your windows clear.
If this isn't enough, involving the scraper, windows down and the person in the passenger seat is still a valid option, even if probably less successful.
What other tips or tricks do you have and use to defog the inside of your car? Leave a comment below.
[Source: Motherproof]
Post tags: Tags: fogged-up windows, tips&tricks

In the past year and a half, Toyota has discovered how the effects of a hostile media might prejudice its brand image on a high level. When all the situation with the last year recall appeared to be solved by the Highway Traffic Safety Administration's statement that there wasn't a software issue that led to the company's unintended acceleration woes, Toyota is now involved into another rumors: it appears that a couple of blogger moms were offered payment to spread positive news about the Japanese automaker.
Why Toyota is in a critical situation
Apparently, a network of blogging mothers, MommyNetworks.org, has sent some emails to its members, offering each of them a $10 Amazon gift card to write a positive story about Toyota's recent exoneration by the U.S. government and promote similar pieces, with links to a few articles, on social networking sites and "thumbs up" votes for YouTube videos.
Toyota's answer
After that, a series of complaints began to appear about Toyota's inappropriate behavior. To all this, Toyota's response was that it had nothing to do with the plan, adding that the company "adheres to the highest standards when working with media, journalists and blogger and we find any sort of payment for editorials or blogs unethical and illegal according to FCC guidelines." On the other side, the network that has sent the emails has posted it was only their idea and not a Toyota sponsored initiative.
Despite all those statement, rumors about this case still remain valid once that some of the bloggers declare they were contacted by both Mommy Networks and Toyota, both of which claim no affiliation with each other.
Whether it's a true or a false implication, effects of this rumor will certainly become visible in the consumers' confidence in Toyota brand, which might influence its future on the international automotive market.
What do you think: Did Toyota really pay off blogger moms or are they innocent?
[Sources: Autoblog, Jalopnik.com, MommyNetworks.org, Image: Toyota]
Post tags: Tags: Toyota, Toyota rumors
Well, ladies, we all know that cars usually give us problems, from fixing a tire or going to the car service because of an engine "situation", to finding a parking space and trying to fit in it, without causing any irreparable damage to your or others' car. This funny and science-fiction video might give us a solution to some of the problems:
So, we may realize that this collapsible car wouldn't be such a bad idea at all: after the "conversion", it genuinely fits into a bag (a small bag, not that it would a problem, considering the large bags we daily wear), it can be used as a feminine small extra accessory and it may actually face any of our possible phobias about huge traffic cars, about driving or parking, because, let's recognize it, it looks quite strong.
After all, this is a video about a fantastic car which might be perfect for women. Too bad that it is just fiction.
Post tags: Tags: women car
During this period takes place the 103rd edition of the Chicago Auto Show, the largest auto show in North America and a fun place to visit with your family (husband, children or nanny). The show offers interactive displays, kid-sized cars that children can drive, cool concepts and indoor driving courses for you and your family.
Today's Women Day
The important part in this article is that today, on February 15, is Women's Day, meaning that the organizers have created a special program for women while manufacturers will present special women-oriented programs on the purchase and lease of cars and maintenance. During this day, women are admitted for $7.
Chicago Auto Show Special Days The Women's Day is the first from the list of Special Days on Chicago Auto Show, a list that includes Chicago Auto Show Food Drive (on Frebruary 16) and Telemundo Hispanic Day (on February 18) too.
Chicago Auto Show visiting period is: February 11- February 20, 2011.
For more information about the program and exhibitions, you can visit Chicago Auto Show official webpage.
Post tags: Tags: women oriented programs, women's day

Car buying is a difficult process for many people, especially for women. Even if nowadays there are a few alternate online strategies that can ease your decision making process, sometimes the best thing to do is to visit a dealership. And that's the moment when you might deal with problems. So, the best thing to do, as a woman, is to make sure that you have a wingman to accompany you. Even if you have to take a test-drive or to negotiate or sign contracts in person, the entire process will work better with a partner – your wingman.
Who's the best wingman for you?
As a woman, you know that features and technical parameters of a car aren't your strong suit and that the first thing that gets your attention when you see a car is its look, color, shape and / or design. That's the moment when you should realize and accept (despite your more or less manifested feminism) that the best wingman for would be a male, first of all, knowledgeable about cars, and only then a fearless negotiator, an objective person that keeps an eye for detail and for your needs too (avoid those who might have developed a personal passion for a particular engine or vehicle and inadvertently might pressure you into accepting a car that may not best fit your needs). Besides that, you should let your wingman do the things you are not comfortable with, such as negotiating, asking questions or dealing with numbers and technical details.
Tips for you and your wingman
What you should always remember during your visit to the showroom is not to get separated from you wingman, because, meanwhile, the salespersons will probably try to separately convince you or you wingman about services, features or products that you may not really be interested in buying them. You should also make sure that, for example, during the test-drive you have to keep your focus on the vehicle and how it works while driving, and not to what the salesperson says to you.
During this process, you should let your salesperson know that you have other buying options, which puts the pressure on him to make a better offer and leaves him without the main weapon in convincing you to buy a particular car: the knowledge that you really want the car in his showroom.
Finally, don't forget to verify with your wingman the numbers and the price that you agreed upon during the negotiation to be reflected in the contract. If you have any queries, do not hesitate to ask questions and to request for clarification.
Finally, you have a car
Now that you have bought a great car, you should not forget to thank you wingman for his moral and "technical" support and get prepared to return the favor when it will his time to buy a car, because your typical women questions are useful too in choosing a car.
Are there any tips you'd like for us to add to this list? It's open for all.
Photo source.
Post tags: Tags: auto tips for women, car buying for women, car buying tips, guide for women car buying, How to buy a car – a small guide for women, how to buy a car if you're a woman